School Games
Thorn Grove School Games GOLD award 2016/2017- third year running!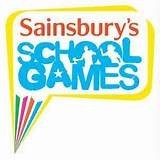 For the last 2 years ,we have been awarded the GOLD School Games Award. We have again been awarded this award in recognition of the school's commitment to inclusive sport.
We were one of only a few schools in the Bishop's Stortford partnership to achieve this award.
The celebrates our commitment to sport at Thorn Grove and also the support of pupils and parents.
To find more information about the school games, follow the link below:
https://www.yourschoolgames.com/about-the-games/information-for/organisers.
School Games Event 2017- 30th June 2017
Our Sainbury's school games event was held on Friday 30th June . This event was formally known as the KS2 sports day but has developed into more than just a sports race. The ideals of the school games is about respect, encouragement, participation for all, supporting each other and personal achievement. Through the school games ethos we hope the children will be encouraged to participate in a variety of sports, striving to be the best they can be.
Children in KS1 and foundation also participated in their own sports days- the ideals of the school games for KS2 being the corner stone of their events.
2016/2017 Birchwood Sports Partnership Events:
Basketball competition 17/11/16
On Thursday 17th November, a group of enthusiastic year 6 pupils travelled to Birchwood High School to participate in one of the first events in the busy BSP's calendar.
The basketball competition is always a challenging competition and all children participate to their maximum effort. There are usually lots of bumps and bruises after the event and some very sore legs.
Our squad of players were up against some very skillful, and large, opposition. They fought very hard on the court and qualified for the 3rd places pool. They successfully won several games in this pool to finish second in their group.
I was very proud of the children's effort, behaviour and commitment whilst at the high school event. Well done to all of you.
Mrs Cooper (SSCo)
Basketball squad ( below):
Natalia Lampart, Grace Mason, Linea Hallakorpi, Amiee Hussain
Laurence Poles, Hayden say, Edward Bless, Harry Evans, William Lumby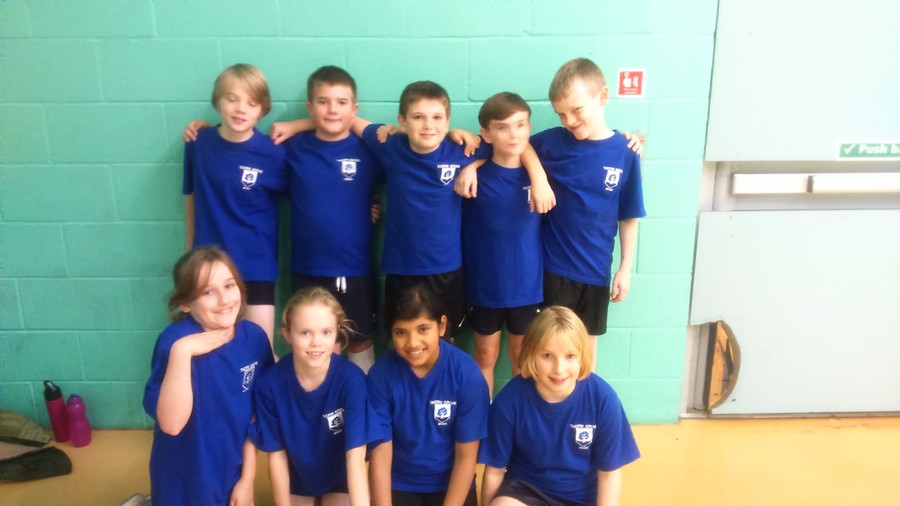 Sportshall Athletics competition 27/1/17
On Friday 27th January, our squad of 16 year 5 &6 pupils returned to Birchwood High School to participate in the next event in the BSP's calendar.
The sportshall athletics was at its maximum capacity of 20 schools so the event was run over two days. We competed on day 2. The competition is always tough and all children participate to their maximum effort. I am always amazed at how fast they can all run!
Our squad of players were fantastic. The effort they put into the events was clearly 100%. We could ask no more. This coupled with the exceptional behaviour made for a very pleasant afternoon for both myself and Mr Luck (who came as my helper!). The children won several of the races and were placed second in numerous others.A great afternoon of competition was enjoyed by all.
Well done Thorn Grove
Mrs Cooper (SSCo)
Sportshall squad ( below):
Harry Evans Edward Bless Mackenzie Lewin Tom Wildman-King Leona Taylor Edith Russell Alice Ashman Natalia Lampart Grace Mason
Laurence Poles Tyler Robinson Aaron Patel Bruno Gordon Caitlin Hill Ayla Gurney Linea Hallikorpi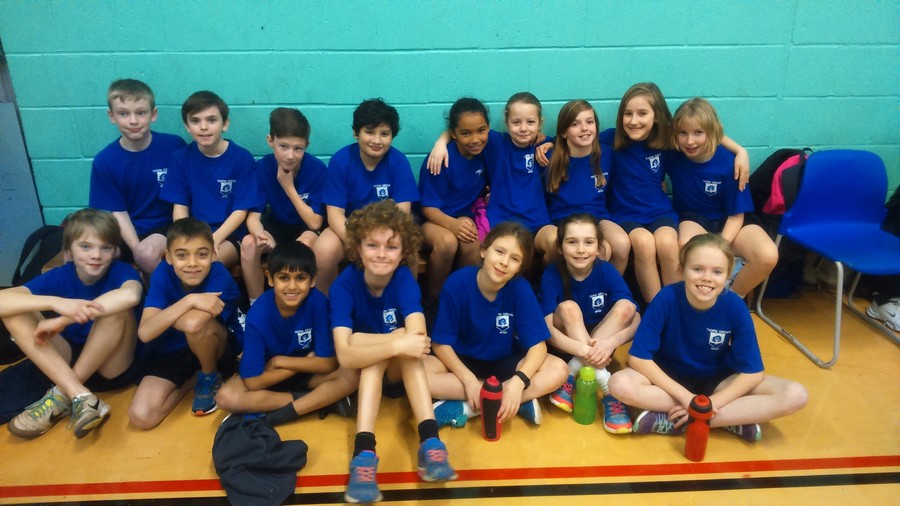 Quick Stick hockey competition 30/3/17
On Thursday 30th March, our squad of 18 year 5 &6 pupils once again made the trip to Birchwood High School to take part in the annual hockey tournament.
Our two squads of players were fantastic. The hockey skills were show cased my the children, along with the traditional Thorn Grove team spirit. The children gave 100% effort and won several of their pool games.
Well done to those who took part.
Mrs Cooper (SSCo)
Hockey Squad:
Edith Russell,Bella Morrision, Naeema Khan, Emma Fields, Coulson Ryan, William Dillon, Peter Palmer, Bruno Gordon, Aaron Patel.
Natlaia Lampart, Amiee Hussain,Alice Ashman, Linea Halikorpi, Hayden say, Mackenzie Lewin, Ryan Dowlett, William Lumby, Teddy Lipley.
TBSHS X-Country Festival 24/4/17
After a false start, the TBSHS x-country festival finally took place on a cold, but dry, Monday afternoon. A section of Year 4,5, and 6 boys and girls were taken to the event. The children ran different courses dependant on their age group.
All the children showed tremendous character and determination to finish the races.
Shout outs for the following highest placed children in each year group:
Year 4:
Leah Clements (18th)
Dan Clarke (11th)
Year 5:
Bella Morrison (22nd)
Peter Palmer (10th)
Year 6:
Edward Bless (4th)
Grace Mason (2nd)- silver medal
Alice Ashman (6th)
Well done to everyone!
Mrs Cooper SSCo.
X Country Squad below:
Year 4: Leah, Delilah, Ella, Mason, Henry, Shaun, Dan C
Year 5: Emma Fo, Caitlin, B, Bella, Edith, William, Peter, Riley, Bruno, Coulson
Year 6: Marnie, Grace, Alice, Edward, Laurence,Hayden, Mackenzie, Harry E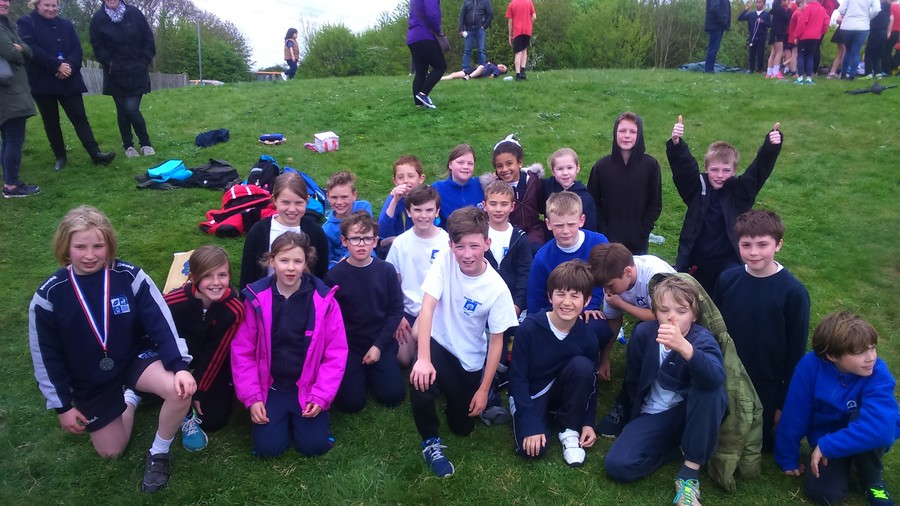 BSP Kwik Cricket Event 25/5/17
The annual BSP kwik cricket competition is aimed at children who have little, or no, cricket experience outside of school, with the aim to encourage participation at local and school run clubs.
A group of year 5 pupils arrived at Sawbridgeworth Cricket Club in the glorious sunshine to take on the challenge. The children have only had 4 coaching lessons at school from our HECC cricket coach . I was pleasantly surprised at their ability and working well as a team. Their coach was at the event and the children could not wait to tell him how they did in the matches, explaining what they needed to work on for the remaining sessions back at school.
Our pool games were against Little Hadham and Northgate. These teams were mainly made up of year 6 pupils but we did jot give in. Valiant '6s' from William and Bella and some demon bowling from Peter showed some encouraging play. We did not progress to the semi finals but had a great morning of cricket.
I was very proud to be 'teacher in charge' of such a well behaved group of children.
Mrs Cooper
BSP Year 5&6 Tag Rugby Festival 25/5/17
The annual BSP Tag Rugby tournament was replaced this year with a tag rugby festival. The difference from previous years was the lack of a winner or the vent. Scores were not recorded at the end of each game, the idea being that the children enjoyed the participation and not just the winning of the games.
Two teams were entered into the festival, a year 6 team and a year 5 team. It was a great afternoon of rugby, with children trying hard in each game, regardless of the lack of official scoring.
We have to wait and see if the festival will remain next year, but for this year, it appeared to be a success.
Mrs Cooper